Mansfield Traquair - If you've recently said 'yes' to the big question, chances are you're looking for a wedding venue. The place where dreams come true is Mansfield Traquair. A spectacular exclusive use venue for weddings, parties and corporate events, Edinburgh's 'Sistine Chapel' is simply extraordinary. Located in the heart of the city and lovingly restored to create a versatile space which combines stunning, historic architecture with state-of-the-art lighting and specification, you'll find that anything is possible at Mansfield Traquair. Event partners, Heritage Portfolio rise to the challenge creating events to be remembered forever - an experience beyond food, every time.
News
Rachel and Keith's Stunning Scottish Wedding
English rose Rachel and Scottish gent Keith's love story was over a decade in the making and culminated in a magical, fun and beautiful Mansfield Traquair wedding. Within the soft glow of pea-lights and amongst the beaming smiles of their guests, they said their vows, danced the night away and enjoyed their perfect day.
MORE
A Proposal to Remember
Every wedding starts with a question, specifically a proposal and we at Mansfield Traquair are always interested to hear about how our couples ask or were asked one of the most important questions of their lives.
MORE
We had an AMAZING wedding day at Mansfield Traquair – it really couldn't have been any better – thank you so much!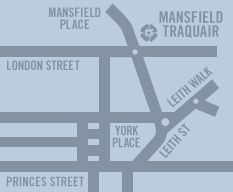 A venue supported by Heritage Portfolio