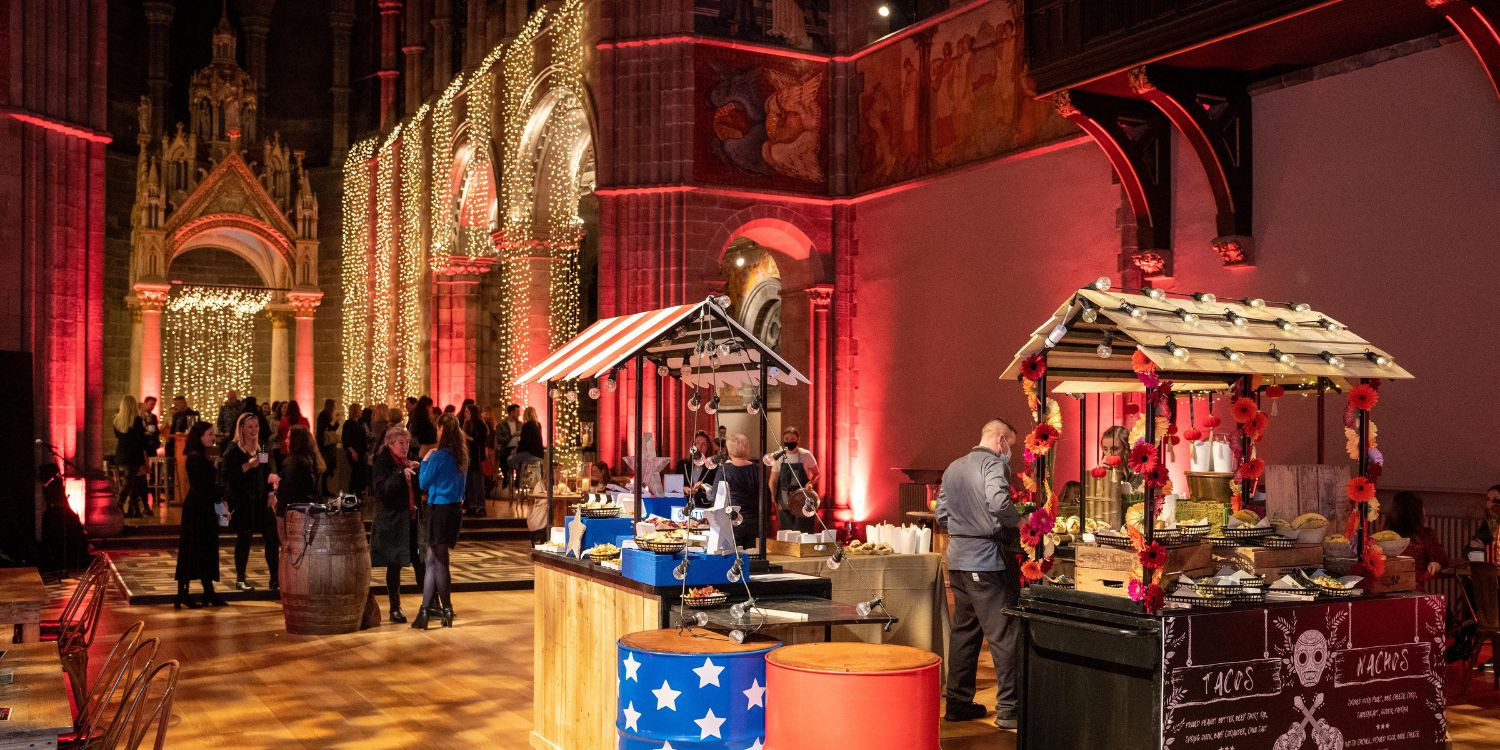 Corporate Events
Escape the normal confines of historic venues and revel in the limitless versatility concealed within the magnificent stone grasp of Edinburgh's hidden gem, Mansfield Traquair.
Conferences, product launches, corporate meetings or gala dinners - in normal circumstances none of these are events likely to incur a skipped heartbeat. However all can be truly exceptional, evocative and spectacular with the inspired choice that is Mansfield Traquair. Versatility renders it the perfect event venue, whilst its beauty adds a unique elegance and our service complements with panache and polish; grand or informal, perfection is promised.
Absolute uniqueness, one of the most sought-after business intangibles is in abundance here, and is set to impress the most discerning client or guest. For the truly astounding, our team of experts will transform the space to your bespoke and exacting requirements, whether that's staging a mesmerising launch with red-hot branding for ultimate recall, or educating an audience theatre-style.
State-of-the-art technology concealed in the splendour of the magnificent stone creates the kind of flexibility corporate organisers dream of. Suspend a five tonne lighting rig from the ceiling, project your logo alongside the world's finest art, allow silk dancers to spring from stone walls through the soaring heights. It may be "Edinburgh's Sistine Chapel", it may be home to some of the world's finest murals, but - more than that - it is a fully flexible, amazingly versatile venue. It is unique in its ability to provide organisations with the opportunity to combine awe-inspiring ambience with corporate goals, in the absence of the confines normally associated with historic venues.
Your event will be remembered for all the right reasons by both clients and colleagues alike. Please contact us to discuss this unique venue in Edinburgh for your corporate event.
Event Design
Extend your efforts with our 'dream team'. They'll open the magnificent doors at Mansfield Traquair to reveal possibilities with no limits in a place where red-hot branding and 'total recall' will find an unusual ally.
From discreet to flamboyant, society balls and grand launches to understated business conferences, imagine how much easier the task ahead would be with an event-specific extension to your team. Our team of consummate professionals will magnify your efforts; their speciality is the delivery of uniquely memorable events which ensure ultimate brand recall for your organisation.
Truly enabling the full stretch of our Event Designers' imaginations, the restoration of this former church has cleverly and subtly incorporated ultra-modern technology and the types of facilities you might expect in a purpose-built modern venue. Uber-technical capability means that your event can feature state-of-the art lighting and entertainment. With equal aplomb and interest, our team designs the smartest of conferences, sophisticated dinners and supremely polished award ceremonies.
Achieving the impeccable execution of your event is the absolute focus of our team. You can be as involved or as remote as you like or your time allows. Our enthusiastic and versatile team will present you with clear-cut decisions, innovative yet practical ideas, good taste and imagination within budget – all combined with proven experience and professionalism. Underpinning it all, a menu and drinks selection which incurs round-the-room delight whether your event is a serious conference or a 'let your hair down' year-end bash.
We understand the importance of first impressions; explore with us the limitless opportunity to create impressions of great magnitude, an event remembered for all the right reasons.
Key Facts - Capacities & Specifications
Perhaps surprisingly, the restoration of Mansfield Traquair has cleverly and subtly incorporated ultra- modern technology and the types of facilities you might expect from a purpose-built modern venue.
Uber-technical capability means that your event can feature state-of-the art lighting and entertainment. Not only can artists traverse the ceiling on billowing silk (it's actually built to sustain the weight of a car) but you can hold great parties with guest-wowing stunts and room-trembling music. With equal aplomb, however, you can also host smart conferences, fairytale weddings, sophisticated garden parties, and supremely polished award ceremonies and presentations.
Full technical specification, floor plan and dimensions
| Capacities | No. guests |
| --- | --- |
| Dinner | up to 350 |
| Dinner Dance | up to 300 |
| Reception | up to 700 |
| Seated Buffet | up to 275 |
| Standing Buffet | up to 600 |
| Theatre | up to 600 |
| Cabaret | up to 200 |
Testimonials
We are delighted to receive many letters of thanks from our corporate clients. Below are a few examples:
"I am absolutely delighted with the event on Saturday. Everything went very well, the venue looked gorgeous, food was amazing. Thanks a lot for your help during the planning period, you were great to work with and always there to help." Experience Scotland
"I just wanted to send you a quick note to thank you so much for all your help in organising Wednesday! Everything was perfect…the food was lovely, the room looked stunning, and everyone seemed to have a great time. Please pass on my thanks to Morag and her team on the night, they did a great job." GR Spada
"The party was a great success, everybody has been talking about what a wonderful venue it is, lots of positive comments and loads of social media photos have been posted over the weekend. Please pass on my thanks to all the staff who worked tirelessly on the night and of course a big thank you to you for organising all of this for us." Communicorp
"A massive thank you to you and all the team for all the help and support. You made the planning painless and very easy for me, despite the constant changes and unknowns. Mayu and her team we brilliant and always ready to help." Standard Life
"It was a fantastic evening! Couldn't have gone any better. Pleasure to work with you and your team and the staff on the evening were best in class!" Santander
"Just wanted to personally say thank you for all your help and assistance with making Whisky Fringe a successful occasion for another year. As ever, the venue received almost as much praise as the actual whiskies on show!" Whisky Fringe
"Monday night at Mansfield was a superb event – the venue was simply stunning and it was such fun to watch all the guests as they first walked in and looked around them – you could literally see them all saying WOW! I thought that the flowers and colours for the table settings just set the venue off to perfection, it was really beautiful. The food, wine and service were excellent, you have a great team and we felt in such capable hands all evening. We couldn't believe how fast the team worked when they began setting up, it was like a military operation, we were most impressed. Your event planning beforehand was very professional and we have to say you have the most reassuring and calm manner – it is definitely a skill to be able to put clients' minds at rest! So thanks for such a great job – really hope we can work together again soon!" Kudos Scotland
"We were absolutely delighted with the space and the event. Everyone was incredibly helpful. For what it's worth we think your wine list is very good and decent value. Many thanks to you and particularly to Lorna for looking after us so well." Christies
"I just wanted to drop you an e-mail to thank you all so much for your hard work in making last night's party such a success. Everyone has given me really positive feedback. It was a wonderful night! Many many thanks". Rock Star North
"Thank you for all of your help with our DTC Conference Dinner. Phone calls of thanks and congratulations have been coming in - even formal letters of thanks from our Sponsors! Well done". SELEX Galileo
"Thank you so very much for providing such a fantastic evening. Everything went like clockwork and all the staff were excellent". First State Investments
"The Edinburgh Chamber of Commerce received an excellent service from the Heritage Portfolio team throughout the whole process of organising our party. We couldn't have asked for anything more!" Edinburgh Chamber of Commerce
"The event was a great success. The venue is outstanding! It was great to work with you. I appreciate all you did top help make our event a great success". DePuy Spine
"I thought I would send you a note to thank you and the team for an excellent service on Tuesday evening. The food and drinks were delicious and the service was fantastic - all of which helped to make the event a real success". Fidelity International
"Massive thanks to all those involved with yesterdays Awards. The feedback this year has been exceptional and it's all down to the fantastic team behind the event. I'm really really pleased with how things turned out". Radio Forth
"With your help the event went off without a single problem and the feedback from both our clients and the PWC staff has been very positive. Please convey our thanks to your chefs, the food that was served during the evening was of a consistent high standard". PricewaterhouseCoopers LLP
Gallery
Take a moment to fall in love with Mansfield Traquair, that's all it will take. Such is the beauty of Mansfield Traquair that limiting the pictures we show of it is simply not an option. Please browse our gallery below the main image to get a glimpse of the possibilities of Mansfield Traquair.
Please don't worry if you find that browsing results in your jaw dropping rather unattractively – it's a normal reaction. We call it the "Mansfield Effect"
Take a 360° Tour
Seeing is believing and when it comes to Mansfield Traquair, a visit is all it takes to be forever smitten. Our 360˚ tour will give you just a taster of ambience that can be created, the beauty of the unique spaces and the potential to create an event to be remembered.
When viewing the 360˚ tour, don't forget to use the options at the top right corner of your screen to see Mansfield Traquair empty and fully set up as an evening venue.