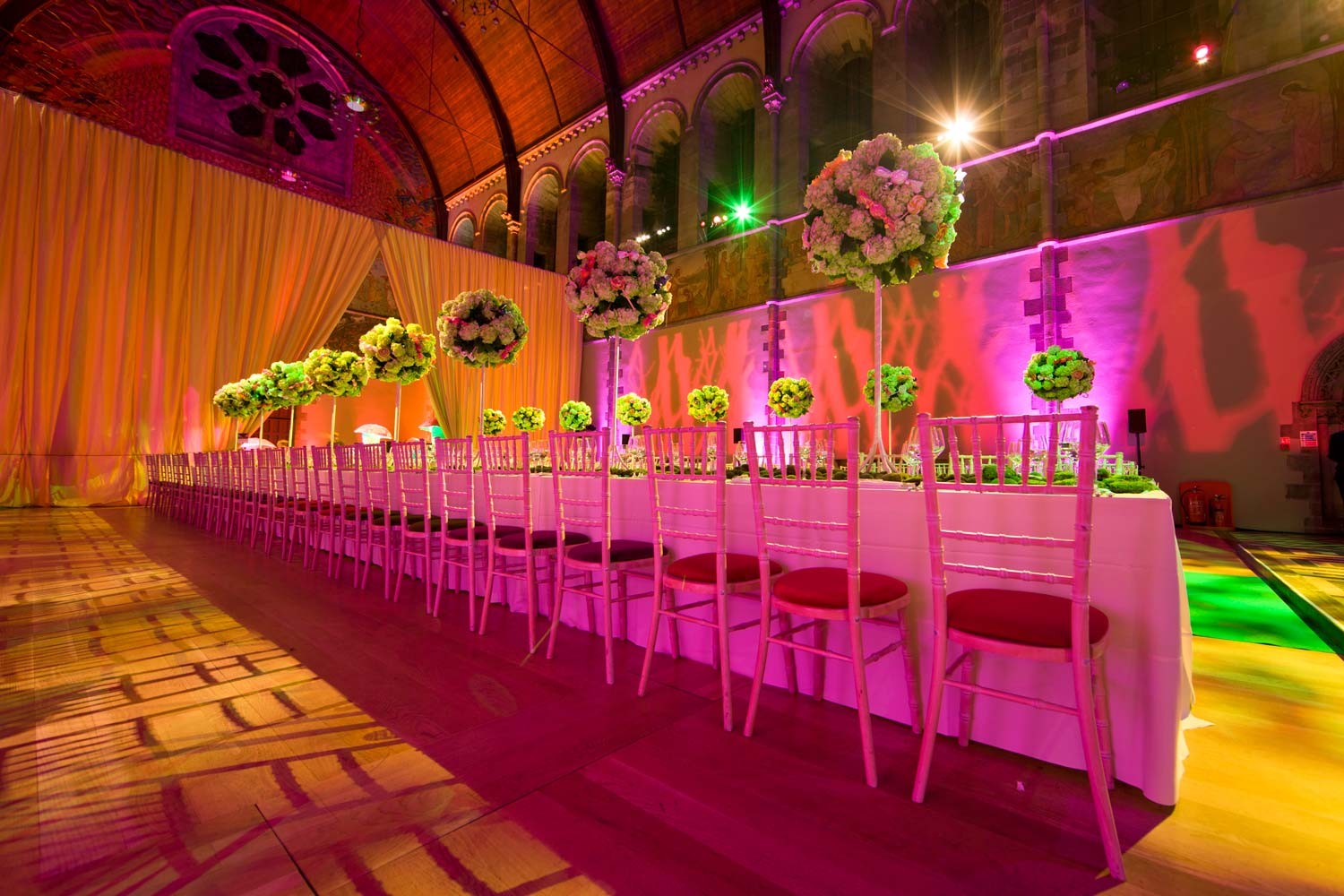 Celebrations
Delight in the expressions of your guests as they cross the threshold for the very first time. Shocked by the splendour and in awe of the majesty, they'll draw breath as they step inside. Celebrate with passion, it's the unmistakable Mansfield Traquair experience!
The perfect party should be tailored to fit both your aspirations and your budget. Be it grand or informal, a kilt spinning, hair swishing ceilidh or an entirely more sedate affair, Mansfield Traquair will be transformed by our team to flawlessly match your party aspirations, whether understated or flamboyant.
The setting is as versatile as it is spectacular - a cocktail reception in the Baldacchino, showgirls and a swinging party in the Nave, a sedate but sumptuous Silver Wedding, or simply tea and scones in the secluded garden. Graduation balls are especially stunning in the venue (more here) not to mention fun birthday bashes. Dance floors framed by great curtains of pea lights, acapella performed in pink tuxedos in the Baldacchino, cocktail receptions cocooned by billowing silk curtains drawn back to reveal the most glamorous dinners - the limit is the extent of our imagination, and that's a considerable stretch!
You will, of course, appreciate our exquisite menus, the tantalising cocktails and class-leading entertainment, which are all entirely event-appropriate. However, it is the delivery of every conceivable element of planning from a team of aficionados, whose very purpose is surprising you with service beyond compare, that will really transport the event you dared to dream of to the realms of 'the best party ever'!
Mansfield Traquair - a fantastic party venue in Edinburgh.
Party Design
Ultimate creativity, imagination in excess tempered with wisdom. Events designed for a perfect fit with both budget and aspirations. Our resident perfectionists promise you'll party with panache!
Our Event Designers have cultivated an imaginative state permanently in overdrive; tempered with a wealth of creativity, knowledge and experience, they transform every party from the expected to the astounding. Whatever the occasion, be it grand or intimate, they will transform the already-stunning setting of Mansfield Traquair for the occasion-perfect party with panache.
Passionate about what they do, their relentless challenge is to take your exacting plans and project them to the next level. Flexible, diplomatic and enthusiastic, our team is more than easy to work with.
With a reputation for being personable, responsive and extremely well-informed, they are, above all, renowned for unrivalled professionalism. From absolute grandeur with pomp and ceremony to wonderful parties into the wee small hours; serene and respectful, understated elegance or twirling and swirling decadent dances; it all excites us and it's all absolutely founded on menus which tempt and treat, complemented by drinks that tantalise.
With innovation and wisdom in equal measure, we'll transform your ambitious plans into a reality beyond your imagination. Together we'll achieve an event which is as unique as it is exceptional.
Key Facts - Capacities & Specifications
Perhaps surprisingly, the restoration of Mansfield Traquair has cleverly and subtly incorporated ultra- modern technology and the types of facilities you might expect from a purpose-built modern venue.
Uber-technical capability means that your event can feature state-of-the art lighting and entertainment. Not only can artists traverse the ceiling on billowing silk (it's actually built to sustain the weight of a car) but you can hold great parties with guest-wowing stunts and room-trembling music. With equal aplomb, however, you can also host smart conferences, fairytale weddings, sophisticated garden parties, and supremely polished award ceremonies and presentations.
Full technical specification, floor plan and dimensions
| Capacities | No. Guests |
| --- | --- |
| Dinner | up to 350 |
| Dinner Dance | up to 300 |
| Reception | up to 700 |
| Seated Buffet | up to 275 |
| Standing Buffet | up to 600 |
| Theatre | up to 600 |
| Cabaret | up to 200 |
Testimonials
We have received many letters of thanks from clients who have held parties at Mansfield Traquair. Below is a small sample:
"Just a note to say that our 60th birthday party was a great success. Yourself and your staff, chef, waiters, security have done a very professional job for the second time. Food was delicious, tables looked amazing. The feedback from guests has been glowing.Thank you again." Heather & Rab Speirs
"I wanted to say how thrilled we were with all that you did to make Alice's party a roaring success. Everything was wonderful, and although the venue is of course stunning, the decor on the night was breathtaking - so much so that when the curtain was drawn back for dinner no one moved as they were all stunned! The food, from the canapes onwards was superb and your staff were so unobtrusive and slick - really masterful". Veronica Larkworthy
"We had a great night thanks, I think everyone enjoyed themselves judging by the response we have had. Thank you to your team." Fiona Jordan
"Everything from the planning of our party through to the night it self went without any problems. Our guests commented on how friendly and helpful the staff were, how amazing the venue looked and how tasty the food was...thank you all so much." Vivienne Pritchett.
"A massive thank you, we loved the food, we loved the staff and want to say a big thank you to you all". Evelyn Miller
"We had a really super day, the team on site were great ! It was wonderful working with you – you're all superstars. We'll send you pics . And, if we win the lottery, we'll book in for another party asap!" Beccs
Gallery
Take a moment to fall in love with Mansfield Traquair, that's all it will take. Such is the beauty of Mansfield Traquair that limiting the pictures we show of it is simply not an option. Please browse our gallery below the main image to get a glimpse of the possibilities of Mansfield Traquair.
Please don't worry if you find that browsing results in your jaw dropping rather unattractively – it's a normal reaction. We call it the "Mansfield Effect"
Take a 360° Tour
Seeing is believing and when it comes to Mansfield Traquair, a visit is all it takes to be forever smitten. Our 360˚ tour will give you just a taster of ambience that can be created, the beauty of the unique spaces and the potential to create an event to be remembered.
When viewing the 360˚ tour, don't forget to use the options at the top right corner of your screen to see Mansfield Traquair empty and fully set up as an evening venue.